Now you have your horoscope, you know the planets, houses, signs and dignities. You also know a bit about divisional charts and the fact that Navamsa or D9 is always studied in parallel to the D1 chart. You also know about real physical manifestation vs. "Arudha Pads" a little bit.
Things to be noted at this juncture are below –
1) Special Lagnas – You will also see much more data as of now that you wont understand including many lagnas like Hora Lagna (HL), Sree Lagna (SL), Indu Lagna (IL) etc. All you should know as of now is that these are 'special ascendants' which like divisionals are used for analyzing particular areas of life. Example Indu Lagna and the chart with respect to Indu Lagna is to be studied with respect to Finances or Money prospects in a chart. At this juncture, their understanding in detail is not needed.
1b) Gulika & Maandi – Even though not in the main 9 planets, these 'sub-bodies' which are actually satellites of Saturn are considered in Vedic Astrology with somewhat of lesser importance than the main 9 planets. These are highly malefic entities and usually cause problems and delays/ tragedies in the houses they sit in. Typically they are considered good only in the 3rd and 11th houses and negative in all others. That's all you need to know about them for now.
2) Moon, Sun & Lagna (Ascendant) – The ascendant is most specific for each horoscope and is the Pivotal point of the horoscope. However each horoscope should be analyzed with respect to the Moon and Sun as well and from Arudha Lagna (AL) as well. Basic rules don't change. Just think of the sign where Moon is placed as the lagna and analyze the horoscope as you would from Lagna and same for Sun and Arudha Lagna. In some cases 2 or more can overlap. Lets say if a person has Virgo rising and Moon and Sun in Virgo. Now 3 of the Lagnas become one and your job becomes easier. As a matter of fact, in such horoscopes, the predictions will get more accurate in general as all 3 lagnas will indicate results in one direction
3) Dignity of Planets – Before you do anything else, take a pen and paper and right down points for each of your 9 planets and their dignities in detail. Follow the rules of Dignities of planets in detail. Over time this become 2nd nature and takes much less time, but for now take painstaking time to find the dignity of each planet.
4) Ashtakvarga – This is a somewhat advanced concept but since you will be looking on the bottom right of your screen at some terminology which says BAV or SAV, it is worth mentioning about some basics related to Ashtakvarga-
Ashtakvarga means 8 divisions. Basically the support a planet gets from other planets and the lagna is what is being quantified here. Support implies relative positioning. So lets say we take Mercury which is placed in 9th house in a horoscope. Now relative to lagna and 7 other planets (excluding Rahu & Ketu) mercury either gets 1 point or 0 for its relative placement from that planet. If its 0, say from Saturn, then basically Saturn is not supportive of where mercury is sitting and will not help it in its agenda. Calculations and logic behind this is beyond the scope right now but do know that this is very important in addition to the #3 above.
Average SAV of any house is 27 points. Anything above 30 is good. Below 24 is low and 24-29 is somewhat average. SAV is the total sum for all planets in any house
BAV is planet specific as described above. Even though each planet has a different average, roughly speaking 4 or above in any house is good and 3 or below is low. If a planet has say 1 point in a house, then it is not really supported by other planets in that house at all.
These concepts are more important in transit (even though used a little in basic horoscope also). So if Saturn is transiting in a house which has say 36 SAV and Saturn BAV of 6 then Saturn will give excellent results in that house as both these numbers are high and vice versa.
5) Placements – This is the essence of astrology. Take a long time in addition to dignities, to actually look at placement of planets in different houses. You will have to keep reading the house and planet indications repeatedly to get a good idea. Initially you might feel blank often, keep at it, there is no other way. Example see horo below.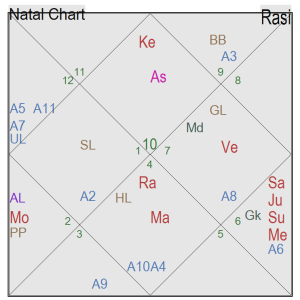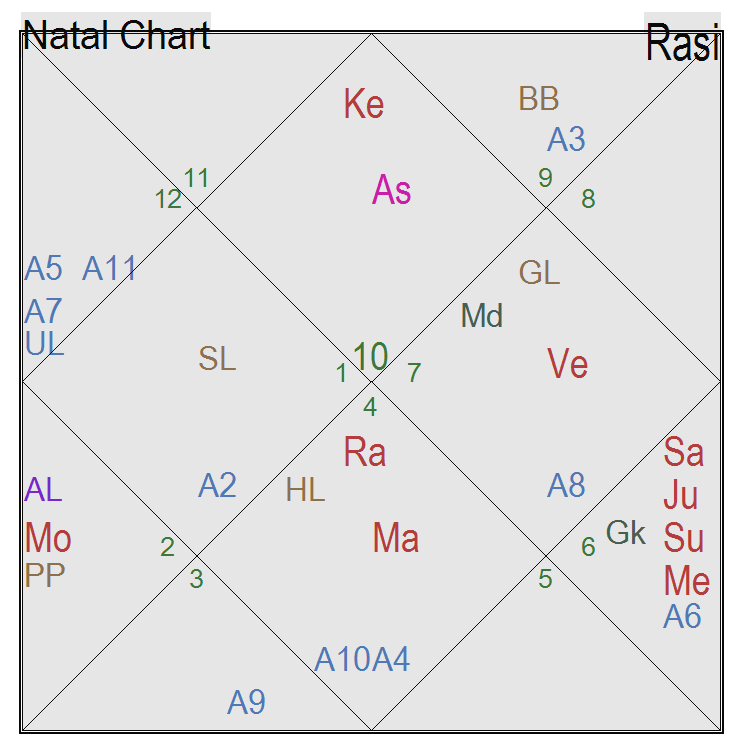 You see Capricorn is ascendant. Saturn rules it. Where is Saturn sitting? In 9th house of Virgo. So person himself (as Saturn is lagna lord) is in 9th house of luck/ destiny/ higher education/ foreign travel etc. 2nd bhaav is Aquarius. Lord Saturn again in 9th house. So concepts related to Money/ assets/ speech/ family etc. in 9th house. Keep going for all 9 planets while keeping in mind the dignity of the planets. Strong planets will do good to their houses and hence significations. So in this example if Saturn is strong in dignity (which it is) it will protect and enhance the concepts of 1st and 2nd house as well as 9th house. Likewise a weak dignity planet will show issues related to those areas of life.
Even though good and bad is relative and not absolute. Keep in mind the concepts from the Bhaav write-up.
6th, 8th and 12th houses will show problems. Planets sitting in them, unless good dignity will show problems as well, especially related to the areas those planets rule by houses.
1, 5 and 9 are benefic houses and planets in these will get 'lucky' and stronger and will do good to their rulerships.
4, 7 and 10 are KENDRA or central places and planets in 1,4, 7 or 10 are generally strong to easily manifest the results they promise in a horoscope.
11th house is one house where materialistically speaking all planets give good results. Its the house of gain, income, wealth, social circle and friends.
A planet in its own karaka house enhances its results. So if Jupiter is karaka (significator) of 9th house, its position in the 9th house will enhance the 9th house results as Jupiter feels comfortable in that area as if it "knows what to do" in that domain of life.
6) Combustion – One concept that is important is combustion. When a planet comes too close to the sun, it becomes invisible or so to speak. Its burnt from the heat and glare of sun and fails to properly protect its significations. Implying the the houses it rules, will suffer. Even though this is a detailed discussion topic, for the sake of brevity consider any planet +/ – 6 degrees from Sun as strong combust and any planet + / – 12 degrees of Sun as combust. Beyond that the planet is no longer combust, even though it might still be more 'agitated' due to its closeness to Sun upto even 20 degrees.